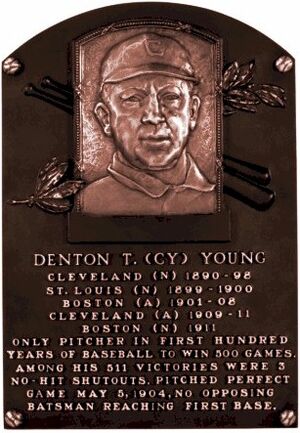 Cy Young played his carrer with Clevland and Boston from 1890-1911
Carrer Year by Year
Edit
Cy Young was a rookie in 1890. He played with the Clevland Spiders. This season he had 9 wins and 7 loses. With that record he had a .561 winning percentage. He had a 3.47 E.R.A and 39 strikeouts.
Career Stats
Edit
Wins-511
Loses-316
E.R.A-2.63
Strikeouts-2803
Career Records
Edit
Bold 1st
Wins (511) 1st All Time
Loses (316) 1st All Time
Games Started (815) 1st All Time
Complete Games (749) 1st All Time
Innings Pitched (7356.0) 1st All Time
Hits Allowed (7092) 1st All Time
Earned Runs Allowed (2147) 1st All Time
Runs Allowed (3167) 3rd All Time
Shoutouts (76) 4th All Time
Base on Balls (1217) 47th All Time
Batters Faced (29565) 1st All Time
Strikeouts (2803) 20th All Time
Community content is available under
CC-BY-SA
unless otherwise noted.